What is Coaching?  
 When is the last time someone challenged your perspective?  
When is the last time someone said to you, "Are you aware you come across very harsh when you are pointing out mistakes? It makes people afraid to come to you with a problem."  
When is the last time someone supported you to set some stretch goals? 
When is the last time you had the opportunity to spend an hour focused on yourself, your goals, your dreams, your challenges, your opportunities? 
When is the last time someone said, "Did you know that you have a real talent in that area? How can you utilize that talent more?" 
We all have blind spots.  
I'll never forget the conversation with a very talented CEO at the beginning of his coaching engagement. We got talking about the concept that 'it is lonely at the top.' 
He shared a brief history of his assent to his current role. He then said, "One of the most interesting things I have experienced being a CEO is that suddenly my jokes are way funnier!" 
After we chuckled, he went on to share his frustration, "I don't believe I get as honest feedback as I did when I was in a more junior position. The frustrating part is that I am now in a position to make serious changes in the organization, and I worry that people aren't sharing the important information I need to make those changes." 
"Never fear," I told him. "You will always get honest feedback from me!"  
We all need people in our lives that are willing to both support us and point out a different perspective that we might not be able or willing to see, in order to grow and develop as human beings. 
This is the strength and benefit of the coaching relationship.  
Executive Coaching is… 
In essence, executive coaching is:  
A series of highly focused and 

powerful

 conversations 

that accelerate success




An external

, objective

 sounding board




A safe place to experiment, explore, gain awareness, and new insights 




An accountability 

partnership

 to 

help you 

progress on your goals 

 
Coaching is widely noted as being the best methodology for challenging people to higher levels of performance. When done well, it is more effective than any other approach including management consulting and conventional training. 
Executive Coaching is about building consciousness and competence to move someone forward in achieving their goals. 
This definition concurs, "Executive coaching is an experiential, individualized, leadership development process that builds a leader's capability to achieve short and long-term organizational goals." (Ennis et al., 2003) 
Download our Executive Coaching Guide here.
The difference between Coaching, Mentoring and Counseling

There are many ways to develop our awareness and skills, and they all have value.  This table provides a great summary of the different ways we can seek support for both our professional and personal development.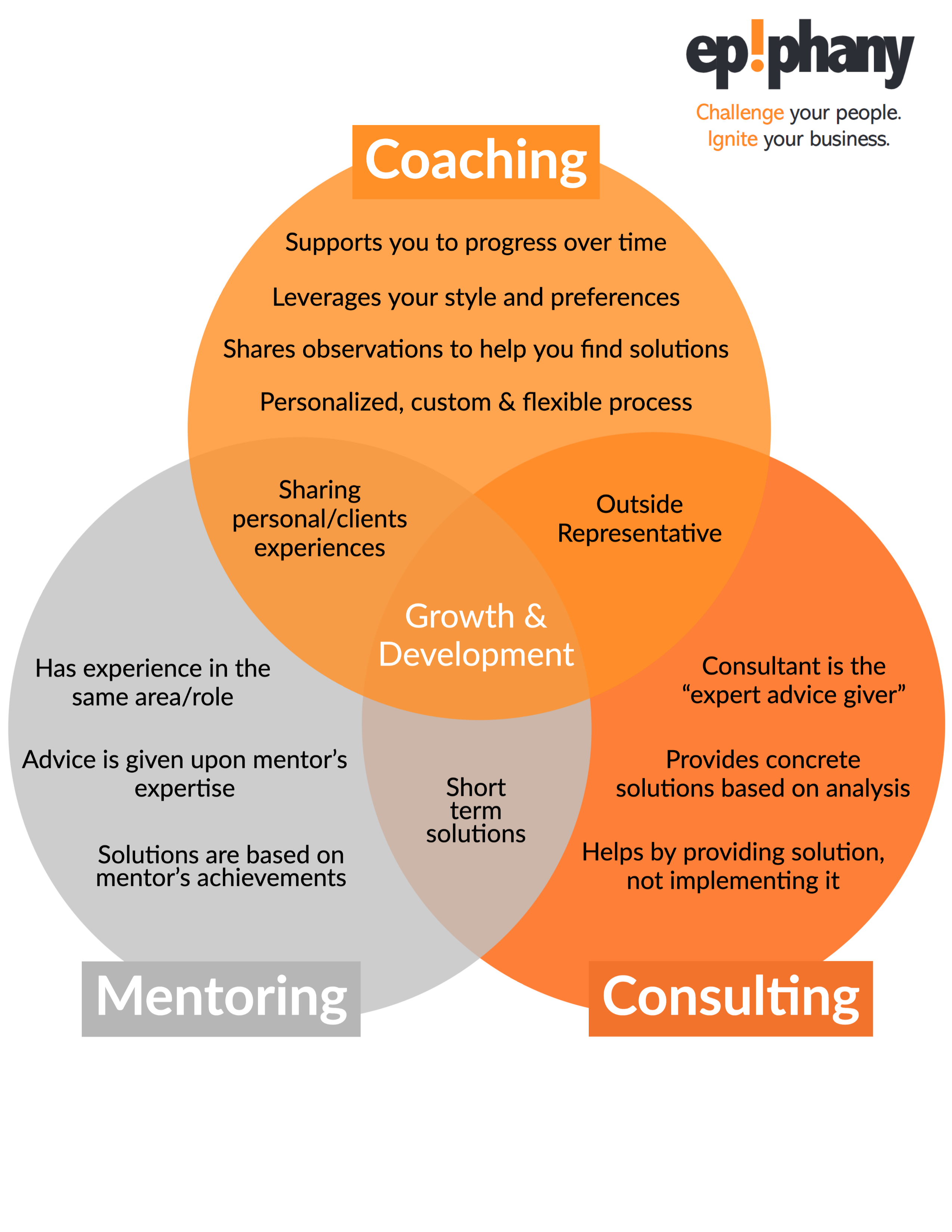 Supports you to progress over time 
We design all of our coaching programs with a long time frame so that you can be supported the entirety of your journey. Each coaching session builds off the last one allowing you to progressively hone your skills as a leader.
In between sessions we even provide unlimited 10 minute laser calls with your coach to go over anything adhoc or to celebrate new wins. We track your progress and provide reporting the whole way through to ensure you are learning and meeting goals in the areas important to you.
Unlike mentoring or consulting, which gives advice and leaves you to implement it on your own, the coach will be with you through the whole process. We know that plans rarely go as intended and thus we strongly believe that the client's journey should always feel supported.
Clients benefit from coaches along the way as they fail, experiment, and grow the courage to get out there… and succeed!
Leverages your style and preference 
One of the most important parts of the coaching process is to leverage the clients style and preference to grow them in their unique area. For example, your coach will deep dive with you to learn about you as a person, and where you are in your career to ensure the program will target your needs in all areas.
Unlike consulting or mentoring, the coaching process is all about getting super personal with the client, and growing them as people as well as leaders.
Shares observations to help you find solutions
Coaching doesn't give you concrete solutions like consulting or mentoring does. The coach helps you to generate the solutions yourself, by sharing observations and experiences.
By guiding you to find out the solution on your own, the coaching process teaches you how to problems solve on a deeper level, and develop the soft skills you need to be a great leader.
Personalized, custom & flexible process
Coaching is personalized and customized. Solutions are chosen based on the client's style, strengths and preferences, which has a greater chance of success. With mentoring or consulting, on the other hand, there is less flexibility as they share their idea of the best approach and ask you to do it that way.
What can you expect in a formal coaching relationship? 
You can expect… 
To be deeply listened to – your coach 

listens not only to your words, but also to your tone, language and perhaps what is not being said



To be challenged – your coach will 

encourage

 you to 

think from different perspective

s

, challenge your assumptions

 and biases


 

To be supported

 

–

 

your coach knows you have the answers

,

 

and they will support you to try new approaches, test your

assumptions, stretch yourself, 

uncover 

your strengths and talents



To see results – because your coaching relationship is a series of exploratory conversations plus action 

plus accountability to follow through

,

 you will see your skills, competence and confidence improve over time

 
Over time that CEO, who was feeling 'lonely at the top', came to recognize that it was his behavior that either invited the honest feedback or shut people down. 
He focused on improving his skills in being more direct about the feedback he was seeking. He showed his team why it was important to share all feedback…the good, the bad and the ugly.
Through his newly honed behavior of listening deeply to the issues, asking exploratory questions, and responding in a non-aggressive manner to the 'bad and the ugly feedback', he gained the trust of the team.
Within six months of the start of his coaching engagement he shared that he felt much less 'lonely'. He reported a more collaborative relationship with his leadership team, one that included open communication and constructive team problem solving. 
He was now able to have the positive impact on the organization he so keenly desired. 
The Epiphany Coaches About Executive Coaching Guide  shares this description of the value of the coaching relationship.
Download it now to learn more about the benefits of Executive Coaching.